| | |
| --- | --- |
| Raw Material | Non-Woven |
| Specification | 20*15cm / 20PCS |
| Ingredients | Nonwoven,RO Purified Water,Disodium cocoamphodiacetate, Methyl Glucose Trioleate, Glycerol,Lysin HCL, Glutamic Acid,Benzalkonium chloride, Chlorphenesin, Ethylhexylglycerin, Dryopteris Filix-Mas Extract, Agrimonia Pilosa Extract, Cynanchum Atratum Extract |
| Certification | FDA,EPA,SGS,EN1276,ASTM E2315-16,SGS,ISO 9001 |
| Customized | Yes |
Biodegradable flushable antibacterial alcohol free travel makeup remover wipes

It was very late by the time to get home and to get to bed. And then, you know that you would be not able to sleep because you had to half an hour to makeup remover at least although you were very tired. However, you don't have to worry about it today. It only take three seconds to makeup removal. As the company highlights suggests ,it has been a fair for high-quality products since 2012,which is also regard as the "representative wipes fair" in China. Makeup remover wipes has been always the most representative product. It is manufactured strictly in terms of ISO9001 and ISO14001.So it is provided with high-quality and reliable .It has been export to Japan, North America, Middle East, South America and South Africa.

Our product is specially designed for ladies who make up all year round. It is widely praised for its care of delicate skin.
Thanks to the special formula, it can not only remove makeup quickly but also protect delicate skin. So our research team spent alot of time on it.
More and more people choose this remover wipes as a gift for their friends. Because of its high cost performance in the same product.

The raw materials of wipes are very high-grade. It is a kind of non-woven fabric that directly uses polymer chips, short fibers or filaments to form a net by air flow or machinery, and then it is reinforced by pricking, needling, or hot rolling, and finally it is finished. The new type of fiber product with soft, breathable and plane structure has the advantages of no fiber chips, strong,durable and silky softness. It is also a kind of reinforced material and has the feeling of cotton.

Our makeup remover wipe makes your pores clear without residue.
And it removes bacteria and suppresses mites. Chemicals precipitate. All makeup is added with chemicals. There is no way to clean it completely by facial cleanser alone. Therefore, if you don't remove makeup carefully, chemicals will remain on the skin, which will easily lead to rough, dark yellow and no luster. If the makeup is not removed for a long time, the residual makeup remover ingredients in the skin will also cause pore blocking, which will cause pores to become larger, so that all the dirt will "fall"
into your pores . The skin is a moisture maker at night, and the function of the skin's outermost cuticle is to lock in moisture and keep the skin moisturized naturally, so that the skin can achieve the purpose of water oil balance. If the makeup removal is not clean, it will increase the burden on the skin, and make the skin unable to regulate moisture normally. Over time, the skin will become drier and drier. There are a lot of dust and dust mites in the air. It's easy to block our pores . Our wipes can not only help you quickly remove the residue, but also effectively inhibit the growth of bacteria and mites.

Our super pure water, after two times of reverse osmosis, conforms to the food grade processing, bringing the most thorough cleaning to your delicate skin .

The cool and comfortable touch makes your skin completely relaxed and massaged when exposed to the computer, the sun and the dry air all day long .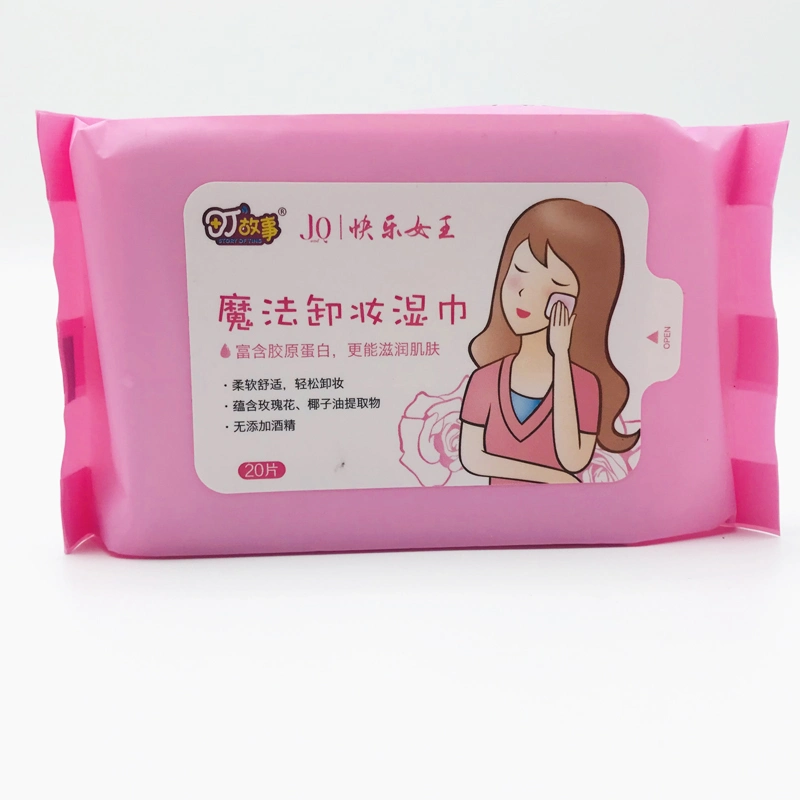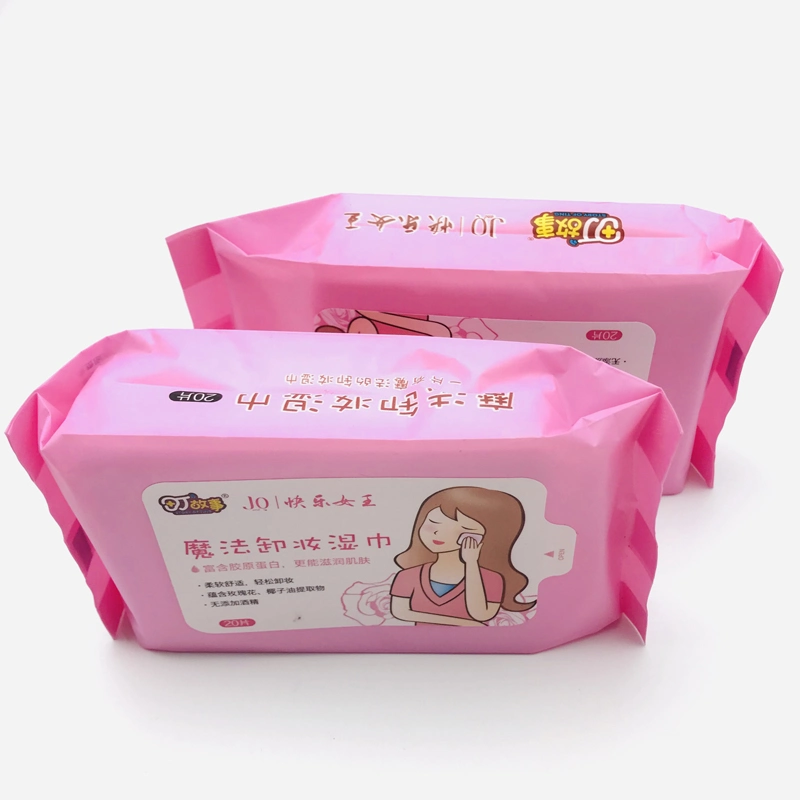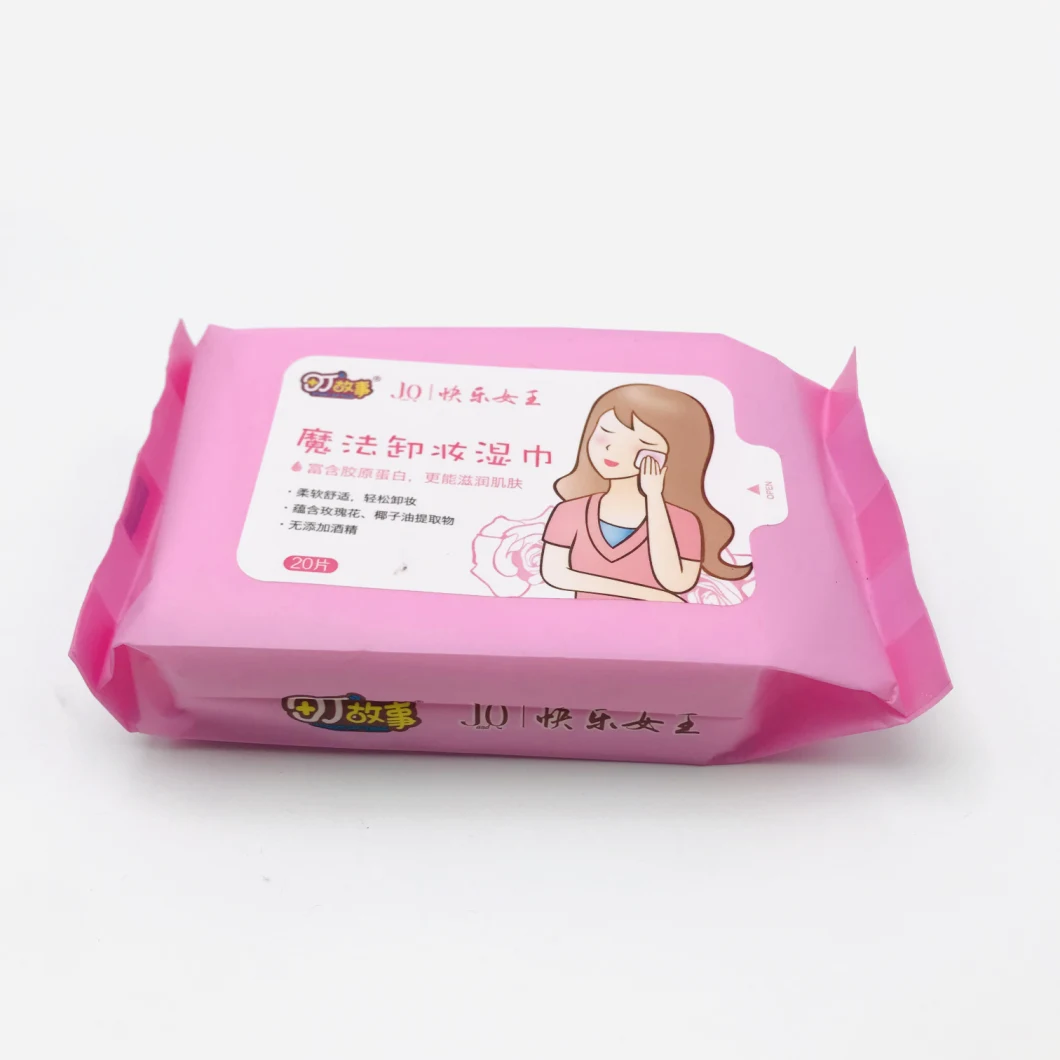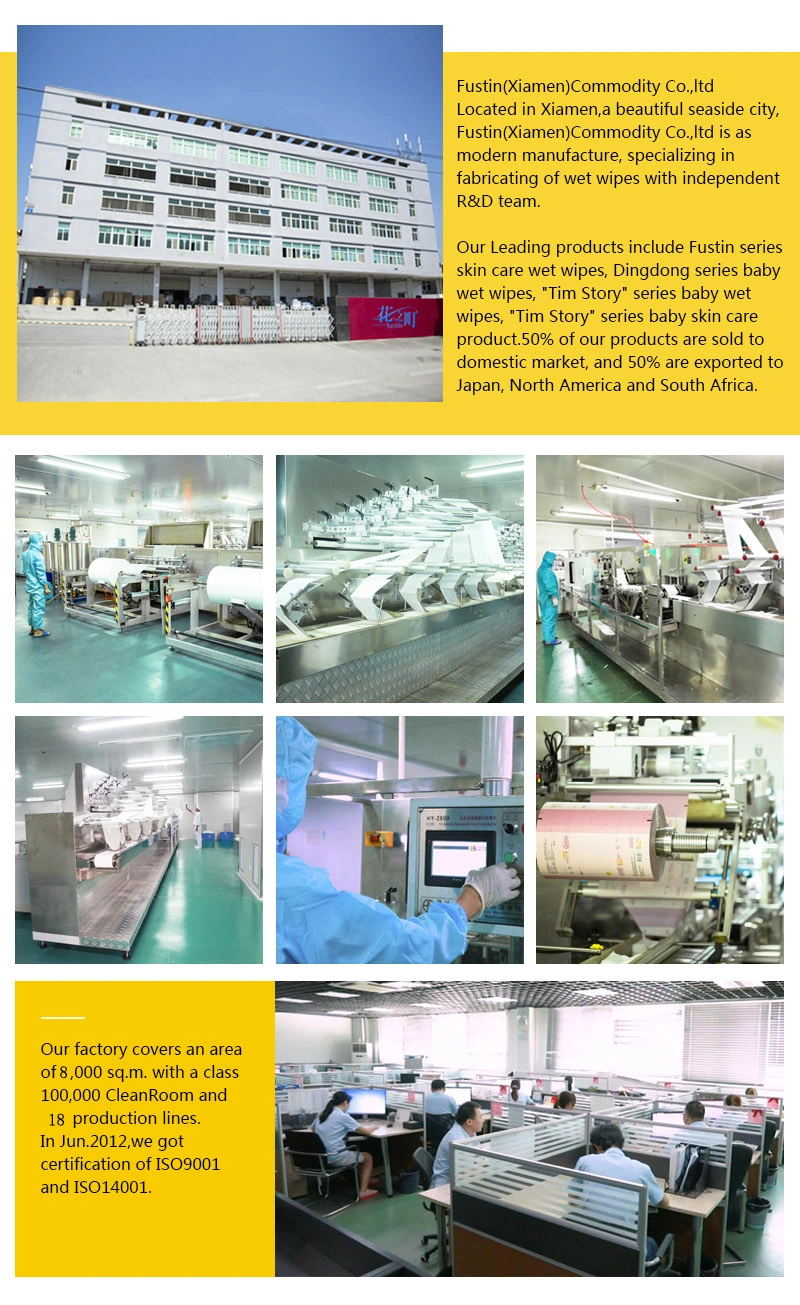 Located in Xiamen,a beautiful seaside city,Fustin(Xiamen)Commodity Co.,ltd is as modern manufacture,specialing in fabricating of wet wipes with independent R&D team.
Our Leading products include Fustin series skin care wet wipes,Dingdong series baby wet wipes,"Tim Story" series baby wet wipes,"Tim Story"series baby skin care product.50% of our products are sold to domestic market,and 50% are exported to Japan,North America and South Africa.
Our factory covers an area of 5,000 sq.m.with a class 100,000 CleanRoom and five production lines.In Jun.2012,we got certification of ISO9001 and ISO14001.
Providing our customers with safe hygienic skin care and a clean healthy lifestyle is our aim.In order to Fulfill this aim,strict management was executed throughout R&D,designing,equipment,testing,quality control and marketing.Gained rich technical experiences enable us to create more and more daily skin care & clean products.
With high technology,good reputation,excellent service.
The ninth brics leaders meeting was held in xiamen in 2017.Our company's products have become the specified wipes for the brics meeting by virtue of their good quality.
Factory: Our factory pay more attention to the quality from the raw materials, produce process, advance equipments, products,
packages and so on, for example we have a high level clean produce room, it is 100,000 level.

R&D Department :We have our own R& D department, will develop new products, also responsible for Customized Order's details,
research the ingredients, packages, fragrance and so on, our R&D department will provide some good solutions to our customers.

Quality Control: we have a professional inspect team that inspect bacteria and fungus every day to ensure every bulk orders' wipes
are superior quality wet wipes .

Application: our wet wipes are not only suitable for baby skin care, but also best for adult cleansing.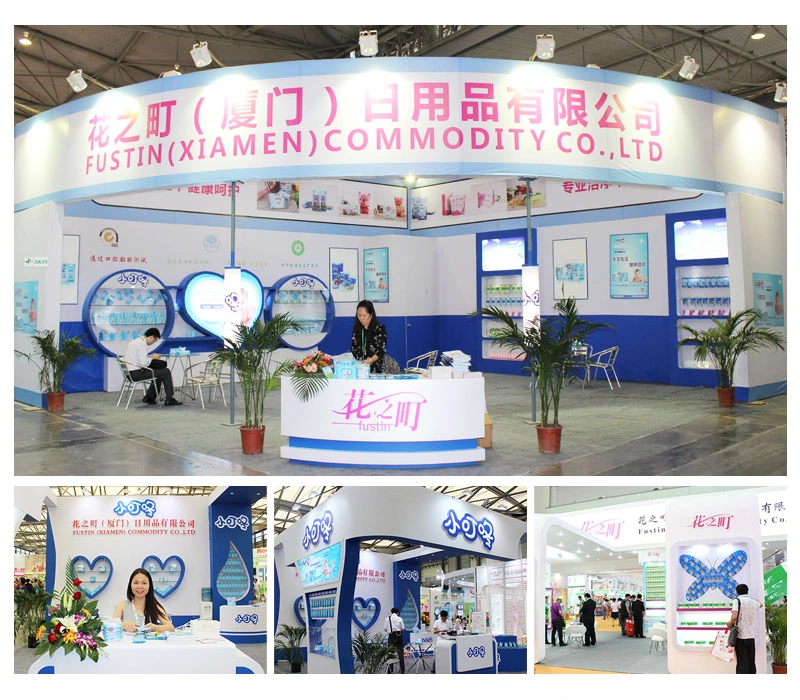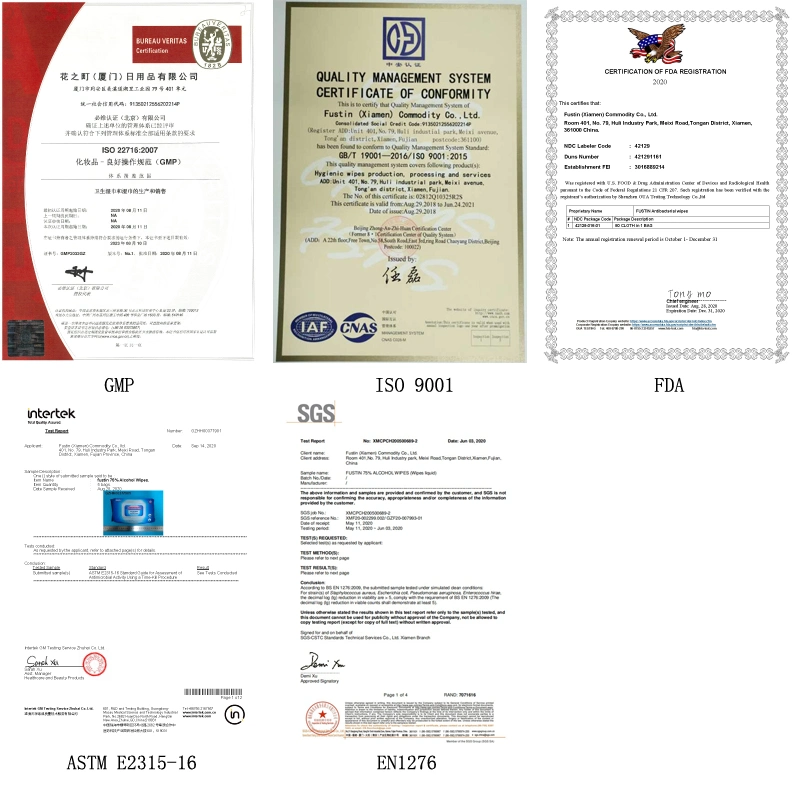 OEM & ODM Service:

We have a professional R&D department that can provide technical support, and keep developing new wet wipes for our customers to develop new markets.

Professional Suggestion:

Our expert Pre-sales Team can provide professional suggestion of marketing.

Quality Guarantee:

Our professional Inspection Team and Quality Control Team, inspect and check all the details(include fungus, bacteria, ingredients, packages, loading etc),ensure our wet wipes are superior quality products.

After-sales Team:

Our hard-working after-sales team, provide expert solutions to our customers.

Q1: Are you a trade company or a Manufacturer?
A: We are a manufacture. Our factory covers an area of 8,000 sq.m. with a class 100,000 Clean room and 18 Production Lines.

Q2: What is your Lead time/delivery time?
A: Samples' Order: About -15days
Bulk Order: About 3-15 days after deposit received

Q3: How do you control the products quality?
A: Our wet wipes have passed FDA,SGS,EPA
Our expert Inspect team inspect fungus and bacteria every day.
We have a strict control system, our Quality Control team according to our control system to check bulk orders' details, such as wet wipes' ingredient, packages, loading and so on.

Q4: What is your Payment Terms?
A: T/T, LC etc

Q5: Can you send free samples?
A: Yes, Free samples are available.

Q6: Can I visit your factory before placing the order?
Yes, We are warmly welcome you visit our factory at any time.

Q7: How do you send the products?
We delivery them by express company(such as Fedex , UPS,DHL etc) , by air or by Sea